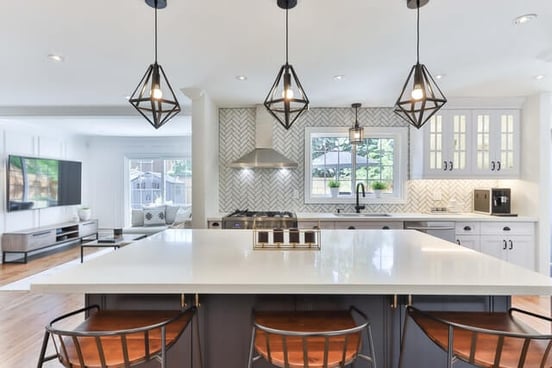 If you're looking for some easy DIY home improvement ideas, you've come to the right place. Most of the following renovation ideas are relatively simple and can be done in a single afternoon. This list of tips will help you increase your property value by making small modernizations throughout your home and yard!
1) Refresh Walls and Trim
If you still have dark walls in your home, consider painting them a lighter, more neutral color to brighten your space and increase your home's value. You can create some visual interest and character by wallpapering a single wall or small space. Additionally, consider repainting or adding new trim throughout your home for a more elegant, finished look. Crown molding, in particular, can add dimension to your space and make rooms feel bigger.
2) Get Rid of Popcorn Ceilings
Popcorn ceilings are a thing of the past and can make it more difficult to resell your home. The spray-on texture is an old-school way of hiding shoddy workmanship and ceiling cracks. It also tends to collect cobwebs and dust that's difficult to clean and creates little shadows all over your ceiling, making your space feel darker.
If your home was built before 1979, your popcorn ceilings might contain asbestos. If you'd like the popcorn removed, call a trained professional to do it for you as it's highly dangerous.
3) Add Attic Insulation
If your attic isn't adequately insulated, your heat and cool air could be slipping out of your home and causing your energy bills to skyrocket. An easy way to save money on utility bills and make your home more energy efficient is by adding quality insulation to your attic. It's a simple DIY home improvement project with instant results.
4) Spruce Up Your Yard
Give your yard a facelift by adding new landscaping, planting trees, and installing exterior lighting. Motion-detecting lights not only look good, but they can scare off burglars, vandals, and unwanted critters as well. Repaving your driveway is another great way to enhance curb appeal.
5) Fix Up Your Gutters
If your gutters and downspouts are still in good shape, you can spruce them up by cleaning them thoroughly. You'll need a soft bristle brush to gently scrub off any buildup and a hose to wash it away. You'll also need some type of cleaner; you can use white vinegar, liquid detergent, or a cleaning product labeled TSP-PF (trisodium phosphate- and phosphate-free).
Another option to give your gutters a fresh, clean look is to repaint them after they've been cleaned and dried. Depending on the material of your gutters, you can use either a latex-based or oil-based paint. First, strip off the existing paint, then gently sand them down, add primer, and apply the top coat of paint.
6) Update Fixtures
Simple projects, like updating plumbing and lighting fixtures, can do wonders for your home. Consider replacing old ceiling fans, updating sink and tub fixtures, and upgrading lighting fixtures to brighten up dingy areas and give your home a more modern feel.
Adding dimmer switches is another way to save money and create a more relaxed environment. Using different types of lighting in a single room can also add visual interest and options for various levels of intensity.
7) Conceal Your HVAC Units
HVAC equipment can be an eyesore. Furnaces are usually hidden in closets or basements, safely out of sight, but air conditioners are often located in prominent locations for everyone to see. If you want to conceal your AC unit, you have several options. You could put up a cute fence or trellis, plant shrubs to grow in front of it, build a small shed around it, or add a removable cover.
8) Improve Your Indoor Air Quality
There are many DIY hacks for enhancing the air quality inside your home. Polluted air can come from excess humidity, pet dander, dust, and other allergens. To reduce humidity levels and condensation throughout your home, consider using a dehumidifier. Opening windows for extra ventilation whenever you can, using kitchen and bathroom fans when cooking or showering, and turning on ceiling and attic fans occasionally to better circulate the air will also help minimize moisture.
Make sure you're also changing your AC filters, grooming your pets, and vacuuming regularly to eliminate extra contaminants from circulating throughout your home. Keeping indoor plants will add more oxygen to your space, and an air filtration system can also help improve your overall indoor air quality.
For more expert tips and tricks for easy home improvement projects, subscribe to our blog!