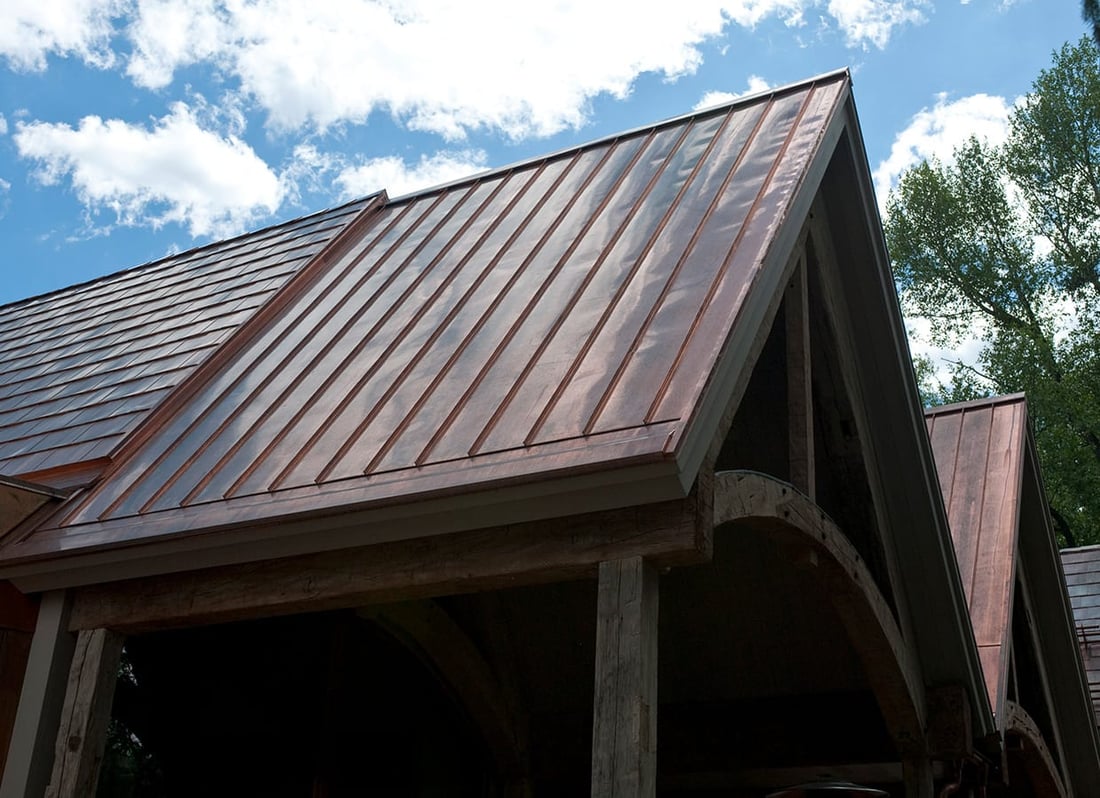 Selecting a roof for your home is kind of a big deal. In many ways, the roof acts as your home's first line of defense against the elements. The success and effectiveness of your roof have a direct impact on the function of your home as a whole, so it's crucial to choose the right material. In many cases, a metal roof can be the optimal selection for a home. Here's why you should consider a new metal roof when the time comes to replace yours.
Longevity
Metal roofs have some of the longest life expectancies on the market. Depending on the type of material, a metal roof can last from 40 to 70 years. Traditional asphalt roofs have a significantly shorter lifespan, which means you'll reduce your replacement and repair expenses—and likely never have to endure the stressful process of replacing your roof again.
Weight
In comparison to other roofing materials, metal is quite lightweight. Because of this, it puts far less stress on the structure of your home than an asphalt shingle roof. If you're building a new home, you may even be able to reduce the number of roof supports used, saving money on materials and labor during installation. Metal roofs can lighten the load on your home and your pocketbook.
Durability
Strong enough to handle whatever mother nature throws their way, metal roofs are ideal for areas with extreme weather conditions. Metal roofs can sustain high-powered wind gusts, may be impact-resistant, and aren't susceptible to mildew, insect damage, or rot. Metal roofs also require very little maintenance. Given that metal has been used as protective armor throughout centuries, it makes that it would be a suitable material to defend your home as well.
Safety
Metal roofs are noncombustible and typically have a Class A fire rating, the most fire-resistant classification possible. A common misconception is that metal roofs make your home more susceptible to lightning strikes, but this is couldn't be further from the truth. In fact, not only will it not increase your home's chances of being struck by lightning, but because of its inflammable nature, a metal roof also makes your home even safer in the event of a lightning strike or any other fire hazard.
Energy Efficiency
Another benefit of a metal roof is its energy efficiency. Metal reflects the heat from the sun, which reduces cooling costs in the summer. This same effect can help to melt snow and ice during the winter, which will also contribute to lower heating costs. You can amp up your metal roof's overall R-value by installing it over rigid-foam insulation. All in all, metal is an ideal roofing choice for an energy-efficient home.
Sustainability
Most metal roofs are made of recycled content and are completely recyclable at the end of their lifespan. When you choose a metal roof, you're not only selecting a sustainable product, but you're also reducing the amount of waste your roof will contribute at the end of its lifetime.
If you need reliable roofing services in the greater Aspen area, choose the experts at Pacific. Our team of construction professionals can help you find the roofing material that's best suited for your home. We install only the highest quality roofing products and work directly with our manufacturers to offer you the latest developments in the industry. From repairs to replacement, we've got you covered. Contact us to get started on your roofing project!