When people think of metal components of buildings, some of the first things that come to mind are gutters, flashing, and ductwork. Architectural metals are highly versatile and can be used in numerous places to add both functionality and decoration to your home or office space.
Here's what sets architectural sheet metal apart and why you may want to consider incorporating it into your property.
What are architectural metals?
Architectural metal is metal that has been fabricated into sheets or panels and carefully crafted for both structural and decorative building applications. It's a highly versatile, modern solution for homes and businesses today. You can choose from a diverse range of options, including copper, aluminum, steel, zinc, titanium, and more to create the space of your dreams. Or you can simply take advantage of metal's numerous practical benefits (explained below).
Why should I consider architectural sheet metal?
Durability
Many metals used for building are corrosion resistant, fire resistant, ­long lasting, and highly durable. They can outlast many other types of building materials, offering a better life cycle cost value. Zinc wall applications, for example, can last up to 150 years! Metal also requires very little maintenance. You won't have to worry about repainting, insect infestations, mold problems, or rotting.
Easily installed and sustainable
Compared to many types of traditional building materials, like brick and stone, metal is much lighter and easier to install.
Metal is one of the most sustainable building materials available. It's made of recycled materials so it's 100% recyclable. Due to its energy efficiency and reflective characteristics, metal can help you reduce energy consumption in your building and save a substantial amount on heating and cooling costs throughout the year.
Customizable
With architectural metals, you can add custom metal work to your property to make it truly unique. Choose from various types of metal, finishes, textures, colors, and designs to complement your space perfectly. Your project may not fit a particular mold or standardized template. Custom sheet metal can be fabricated to fit neatly into or around difficult spaces. Due to its flexibility, metal can be shaped and installed to achieve virtually any look.
Decorative AND Functional
Decorative sheet metal can be used to add aesthetic value to your building with its clean, modern look and feel. Metal can also help you cut costs throughout the year due to its high energy efficiency, low required maintenance, tax benefits, strength, and durability.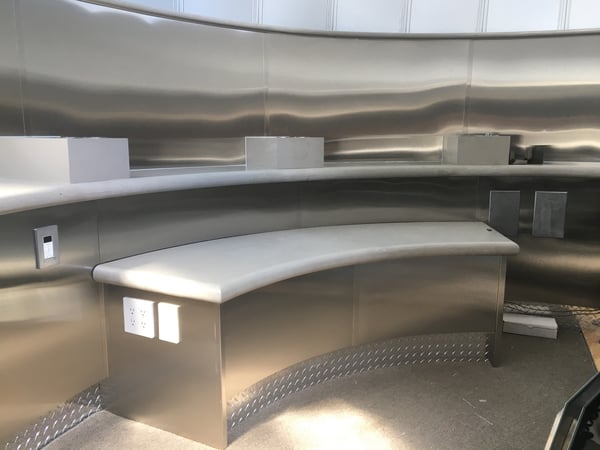 Where can I use architectural metal?
Architectural metal is a popular choice for its versatility. It can be adapted to fit virtually any design or space. Siding is a popular location for sheet metal since metal can withstand extreme weather and strong winds. Here are a few other places you can add custom metal work as a creative solution for your home or office building (while also utilizing all of its functional benefits!):
Planter boxes
Covers for fireplaces or barbecue pits
Chimney houses
Window guards
Gates and fences
Rail covers
Log wraps
Louvers
Flashing
Sheet metal cladding (can be added practically anywhere)
If you'd like to spruce up your existing building or incorporate architectural metal into your next construction project, reach out to us for a free estimate. You can also learn more about this topic and other home improvement topics on our blog. Subscribe below for regular tips, updates, and solutions for your residential or commercial property.