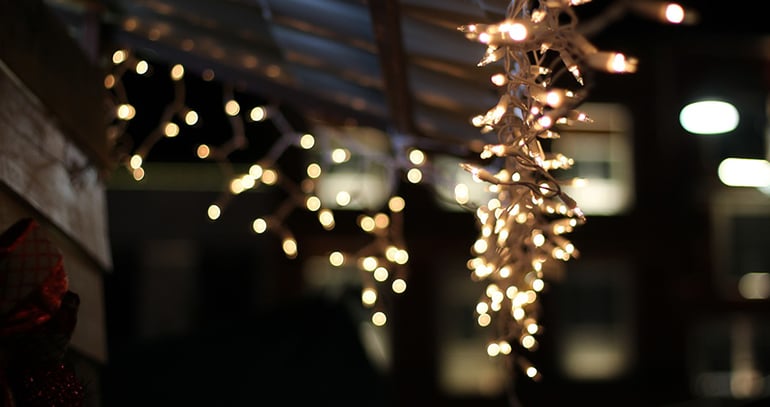 Have you always wanted to turn your home into a winter wonderland, but you've never possessed the creativity to do it? Maybe you are creative, and you just want to know how to streamline the process and make sure everything is done as safely and efficiently as possible. Either way, these tips will help!
Plan a Design
First, figure out the design you want by considering the shape of your home and layout of your yard. Determine how many lights you need to decorate the way you want. If you skip the planning stage and try to wing it, you may fall short, and your design may not come out looking as "professional" as you'd like.
Consider creating a focal point—an area where you get fancier with your lights, such as around the entryway or front porch. You might plan to place lights along the eaves of your roof, around doors and windows, around pillars or posts, framing the garage door, along a driveway or walkway to your house, or on the bushes and trees in your front yard.
Measure
Once you have a plan, it's time to take measurements to determine how many yards of lights you'll need. Make sure you consider the distance to your power sources as well and whether or not you'll use an extension cord. For bushes and shrubs, you can estimate that you'll need at least 100 lights for every 1½ feet of area you'd like to cover.
Prepare Materials
You can pull out your lights from last year and check to see if they're still in good shape. Don't use damaged or faulty strands or lights that aren't labeled specifically for outdoor use. It's unsafe (a fire hazard) and could ruin your entire display if it stops working.
You can typically connect and hang 25 strands of LED lights safely. If you're using incandescent lights, don't connect more than 3–6 strands. LED lights are safer because they won't overheat; they're also more energy efficient. Make sure you have the right light clips to hang strands where you've planned as well.
Run to the Store
If you need any supplies—lights, clips, or extension cords—head to the store! Various clips are available to make hanging lights easy and safe for different parts of your home. All-purpose light clips are also available. If you need a new extension cord, make sure you find one specifically designed for outdoor use that is UL approved. Also make sure it can safely handle the electrical current required for all the lights it will be supplying electricity to.
Test All Lights
Test all your lights on the ground before hanging them—even the new ones. To make it easier on yourself, attach your light clips now. Just make sure the clips are all facing the same direction so you don't have to make adjustments while hanging them.
Hang Your Lights
Grab an assistant (if necessary), then start hanging your lights to fill out your planned design! Hang one strand of lights at a time until you're done. If you're using a ladder, you'll probably need someone to carefully hand you strands as you go.
Light Up Your Yard
Once your lights are in place, you can flip the switch and watch your display come to life! Admire your work. Brag a little. You deserve it.
Pacific repairs and installs roofs in and around Aspen, Colorado. Our roofers are experienced and professional. Give us a call or contact us online for roofing services this season.