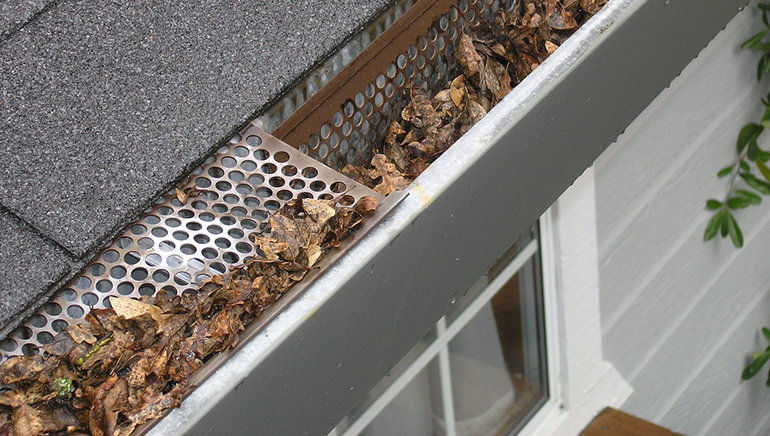 Your gutters play a vital role in protecting your property from serious water damage. If your gutters are properly taken care of, they will channel rainwater and melted ice and snow safely off your roof and away from your home.
You—if you're able—or a professional should inspect, clean, and tune up your gutters at least once in the spring and once in the fall. Giving your gutter system the care and attention it needs will ensure that it's prepped and ready to handle the rain and snow through the seasons.
Cleaning
When your gutters get clogged with leaves, pine needles, and other debris, dams can form. If you don't clean your gutters before it rains, the water that fills them won't be able to flow freely. Instead, it will spill over the sides of your gutters and could leak into your roof or around your home's foundation. Make sure to have your gutters cleaned at least twice a year to avoid this problem.
Inspection
Inspect your gutters for holes, cracks, and sagging to see if any repairs need to be made. When it rains, make sure that water is flowing properly from your roof to the ground through your gutters and downspouts and that you don't have leaks anywhere. If you do find a problem, make sure you address it as soon as possible so your system is ready for the next time it rains.
Sealing
If you have minor leaks in your gutters, you can use putty or caulk to seal them. Make sure gutters are completely dry and clean before you apply the caulk to seal a crack. Consult with a professional if your gutters have major cracks or leaks. They will advise you on the best course of action, which could be making a repair, replacing specific parts, or upgrading to a new system.
Tightening
Sometimes, fasteners can become loose and your gutters can start to sag. Simply tighten loose pieces or replace any that are missing when you inspect your system. You can pick up gutter fasteners at a local hardware or home improvement store. If you find that your gutters are sagging or warped due to excessive weight or other damage, you may need to replace them.
Testing the Slope
It's important for both your gutters and your downspouts to have the right slope to allow water to flow where it should. The standard slope for gutters is half an inch for every 10 feet. If your gutters don't have proper slope, they will need to be realigned. If they're old, you may be better off replacing them. Be sure to have a professional install new gutters for you so it's done correctly.
If you haven't had your gutters inspected yet this fall, we'd love to help you out! We'll inspect your gutter system, make any necessary repairs, and give them a thorough cleaning so they're prepared to work hard for you through winter. We also install new gutter systems for homes and businesses in the area. Contact us today for service!