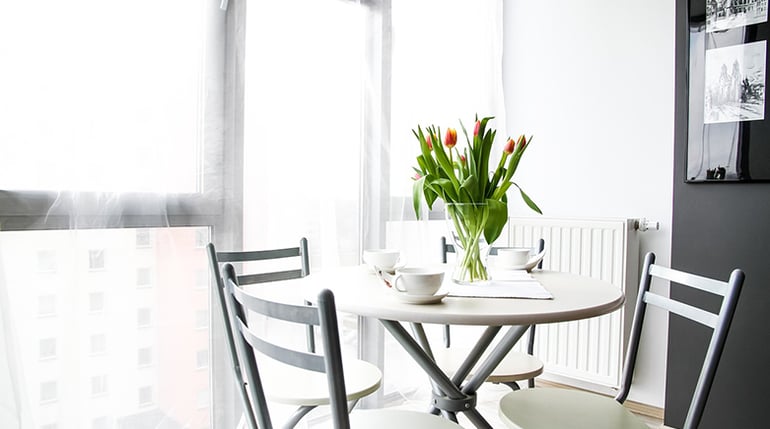 In some instances, it's impossible to add new ductwork to a building, but that doesn't mean you have to live without modern, high efficiency heating and air conditioning. Many older homes and home additions weren't built with ducts, and adding ductwork may be difficult or impractical. Fortunately, ductless heat pumps make it easy to efficiently heat and cool any structure, and they can work just as well as (or better than) central units that rely on extensive ductwork.
How do ductless heat pumps work?
A heat pump allows you to enjoy heating and cooling from a single unit. When it's warm outside, the heat pump works like an air conditioner, using coolant to pull heat from the indoor air and expel it outside. During the heating season, it reverses this action, extracting heat from the air outside and drawing it into your home.
Also called a mini-split system, a ductless heat pump comes in both single- and multi-zone models. Single-zone mini splits are designed for one area, and multi-zone models are best for heating and cooling multiple spaces within a building. Both include an outdoor unit; single-zone mini splits have one indoor unit, which is most often mounted on the wall, and multi-zone mini splits have two or more indoor units that connect to the same outdoor unit.
What are the advantages of a mini-split system?
Mini splits offer several advantages over many types of ducted and ductless systems, including flexible installation, energy efficiency, and zoned heating and cooling.
Flexible Installation
Without the need for ductwork, mini-split systems can be installed in just about any space. If you're adding on to your home, building a secondary dwelling like a tiny home, or working with an existing structure that lacks ductwork, a ductless heat pump is an effective, efficient, and affordable heating and cooling choice.
Energy Efficiency
Energy efficiency is one of the main benefits of all kinds of heat pumps, including mini-split systems. When the ductwork is eliminated, energy savings can be even greater because the heated or cooled air goes directly to the space you want to keep comfortable, preventing energy loss.
Zoned Heating & Cooling
Multi-zone mini-split systems make it easy to manage zoned heating or cooling, allowing you to keep each area at a temperature that's appropriate for its usage and occupants. If you want to work out in the home gym or cook over a hot stove while your spouse curls up with a good book, you can easily turn down the heat in the gym or kitchen while keeping the bedroom or office nice and cozy.
Modern Mini-Split Heat Pumps
The newest mini-split heat pumps are designed to save more energy, eliminate noise, and work seamlessly. Products like the Lennox MPB Mini-Split Heat Pump are designed with smart technology that cools and heats your home at optimal comfort levels. You can program the settings to naturally adjust throughout the day, and you can even use automatic settings based on outdoor temperatures.
Pacific Sheet Metal is a proud certified Dave Lennox Premier Dealer, ensuring our technicians are extensively trained and meet a high standard of customer service. We proudly serve homes and businesses throughout the Roaring Fork Valley, offering a 100% customer satisfaction guarantee. We're ready to assist you with top-of-the-line systems, professional installations, and system repairs. To learn more about heating, cooling, and maintenance for your Colorado home, browse our blog.