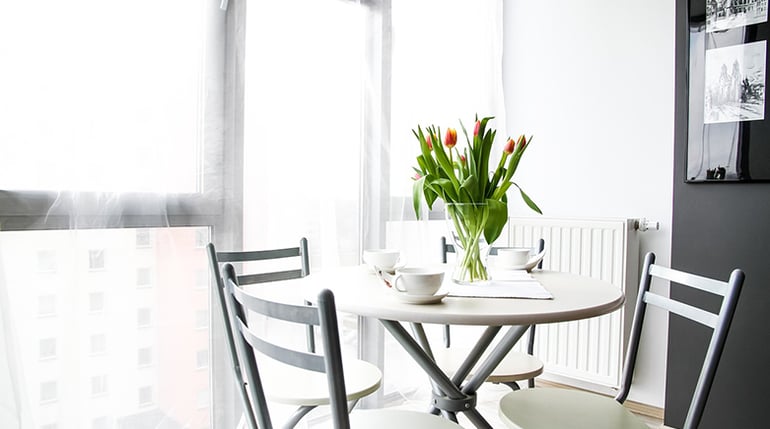 In some instances, it's impossible to add new ductwork to a building, but that doesn't mean you have to live without quality air conditioning or heating! Modern options that can bring air into your home without expensive renovations or retrofits are available today, and they can work just as well as (or better than!) central units that rely on extensive ductwork to transport air.
Today, you'll learn how to get high quality air conditioning and heating into your home or apartment without adding intrusive ductwork.
This blog post is part of Pacific's Heating and Cooling Series.
Ductless Systems for Older Homes, Rentals, & More
Air ducts are the series of tunnels and tubes that transport hot and cold air throughout a home, which usually lead to a rectangular metal vent on the wall or floor. Many older homes and home additions either weren't built with ducts or have a structure that makes adding ductwork very difficult or impractical. This provides a challenge to some homeowners who may not wish to make an expensive update to their homes.
Fortunately, there are alternatives. Ductless systems are among the best solutions available. Ductless systems make it easy to get air into a home. These systems allow you to send fresh and controlled air into your space without having to install expensive ductwork, which can be complicated and disrupt your home life.
A common type of ductless system is the mini-split system, which works by placing a compressor on the outside of the home and one or more (typically) wall-mounted units inside. The air travels through a very small stream into the rooms you wish to air condition, which makes construction quick and easy since you only need to drill a small hole into the wall to install each unit.
Consider adding ductless systems when remodeling your home or adding new rooms. Instead of reconfiguring an already existing ductwork system or building a new one, a mini-split air conditioner can be added easily to new rooms or garages. This reduces the cost of renovations significantly without sacrificing comfort.
Ductless Systems and Heating
A mini-split heat pump allows you to enjoy heating and cooling from a single unit, without the complications of ductwork. During the winter months, the heat pump will extact heat from the air outside and draw it into your home. When it's warm outside, the heat pump will pull heat from the air inside your home and expel it outside to keep your space fresh and cool.
One of the main benefits of ductless heating is how you can control each room for maximum comfort and savings. While it's always possible to zone a ductwork system, you can simply turn off or adjust a mini-split system to save energy in empty rooms or align with an individual's desired temperature setting. This allows you to reduce energy, control the comfort in each room, and get the most out of your system!
Modern Mini-Split Systems with Heat Pumps
The newest mini-split heat pumps are designed to save energy, eliminate noise, and work seamlessly. Products like the Lennox MPB Mini-Split Heat Pump are designed with smart technology that cools and heats your home at optimal comfort levels. You can program the settings to naturally adjust throughout the day, and you can even use automatic settings that are based on the outside temperatures. These more energy efficient models can also reduce your monthly bills.
With a ductless mini-split system, you can stay comfortable in any room at any time of the year! If you're looking to install a new system, get an upgrade, or have questions about which system is right for you, contact Pacifc Sheet Metal today for Aspen-area heating and cooling services.
We proudly serve homes and businesses throughout the Roaring Fork Valley, offering a 100% customer satisfaction guarantee. With top-of-the-line systems, professional installations, and system repairs, we're ready to assist you!