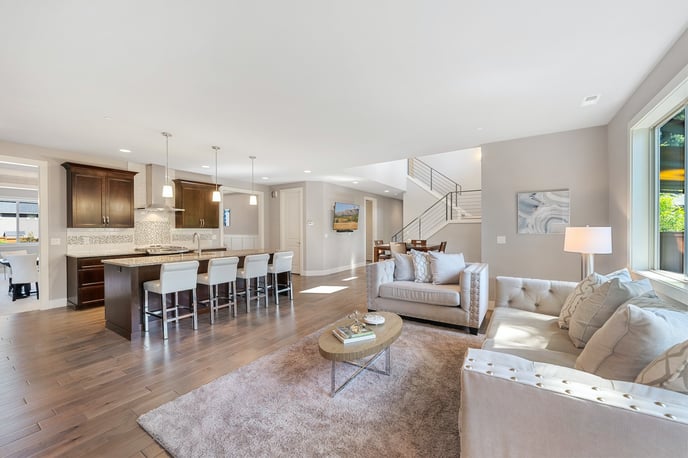 While it isn't the most glamorous aspect of owning a home, having your HVAC system inspected can help maintain indoor air quality, keep your family healthy, and improve the overall efficiency of your home. Typically, it is recommended to have your HVAC system inspected every year to ensure it is operating properly. Once the inspection is done, any necessary maintenance can be performed. This article delves into how HVAC systems get dirty and wear out in the first place, when to maintain them, and how proper maintenance can help improve a home's energy efficiency.
How Do Your Air Ducts Get Dirty?
Air ducts are pathways for distributing air throughout your home, cooling the house in the hot summer months and warming it in the cold winter season. Various particles can get caught up in the duct system: dust, dirt, hair, and renovation debris are just a few examples. The accumulation of these particles can lead to a higher risk of indoor air pollution, as this is the perfect environment for increased mold growth. Dust layers and debris accumulation in air ducts can also reduce the efficiency and lifespan of your HVAC system. Routine inspection and maintenance helps identify issues before they lead to system failure or indoor air quality problems.
Should You Clean Your Air Ducts?
The Environmental Protection Agency (EPA) recommends air ducts be cleaned on an as-needed basis because there is a lot of uncertainty about the actual benefits of performing this type of maintenance routinely. But what does "as-needed" mean, and how do you know when it is time to take action?
According to the EPA, there are some situations where air duct cleaning is necessary:
When there is substantial visible mold growth inside the ducts or anywhere else on your HVAC system
When you believe the ducts are infested with rodents or insects
When they are clogged with excessive amounts of dust or other debris that are being released into your home through the registers
You may also consider air duct cleaning if your home has recently gone through a renovation or other construction, or if any occupants in the home have severe allergies or asthma.
It is important to note that the cleaning process for air ducts doesn't stop with the ducts themselves. It encompasses the entire HVAC system. The thought process behind this is simple: if your air ducts are dirty or contaminated enough to be cleaned, you need to clean anything that comes into contact with the air moving through those ducts. This includes cleaning and replacing the air filter, cleaning diffusers and grilles, checking the drain pans and lines to ensure proper function, and more.
While it's important to keep your home's HVAC system running efficiently, having your air ducts cleaned on a regular schedule is usually unnecessary. As long as you take care of some basic maintenance yourself and have a technician perform annual check-ups, your air ducts are unlikely to cause major health or allergy issues.
Here are some tips you can do on your own to properly maintain your HVAC system and indoor air quality:
Annually check your system for obvious signs of damage as well as after any storm that could have damaged the unit's exterior components.
Clear dust and debris from the unit.
Ensure your heating and cooling registers are open and unobstructed. Blocked registers can reduce system efficiency and increase energy usage. Change filters regularly for optimal performance.
Don't forget to replace the batteries in your carbon monoxide detector annually. This simple step helps ensure it's working properly to detect dangerous levels of CO.
Unless you experience obvious signs of contamination like visible mold growth or pest infestations, air duct cleaning is generally unnecessary with proper maintenance. Focus on regular HVAC check-ups, equipment upgrades, and filter changes to improve efficiency and air quality.
What to Expect During HVAC Maintenance
Maintaining a fully functional HVAC system year-round should be a top priority for homeowners. Although pre-season tune-ups before summer and winter are recommended, it's wise to schedule a professional inspection anytime issues arise. Catching problems early prevents bigger headaches down the road and ensures your system runs safely and efficiently whenever you need it—not just during extreme weather.
A comprehensive HVAC maintenance check by a professional technician is important for optimal performance and safety.
Key elements include
Testing thermostat function
Lubricating moving parts
Inspecting drainage systems to prevent leaks
Checking electrical connections and voltage
Confirming proper on/off cycling
Replacing air filters if needed
Cleaning air conditioner coils and blower components
Checking refrigerant charge and adjusting as required
Inspecting flue piping to safely vent exhaust
Reviewing furnace fuel lines, burners, and heat exchangers
Proper maintenance helps ensure your HVAC system runs efficiently, provides consistent heating and cooling, and avoids potentially hazardous issues. Regular professional tune-ups are recommended for a healthy, comfortable indoor environment.
Energy Saving Benefits
SEER ratings describe an air conditioner's efficiency based on its ability to cool a space while minimizing electricity consumption. Contaminants can block airflow and force the system to work harder and consume more energy, lowering its efficiency. With proper HVAC maintenance, you can keep your home cleaner, minimizing strain on the system, energy usage, and both maintenance and utility costs.
Understanding HVAC System Maintenance
Having your HVAC system periodically inspected and maintained by a qualified technician is crucial to ensure efficient operation and healthy indoor air. Minor issues can be detected and addressed before leading to major repairs or replacement. Be sure to choose a reputable company you can trust and research companies thoroughly before hiring one. Proper maintenance saves energy and helps keep your family comfortable.